[ad_1]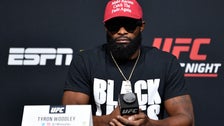 Sporting a T-shirt with "Black Lives Matter" emblazoned across its front, UFC fighter Tyron Woodley made sure to emphasize those three words in all of his replies at a Thursday press conference in Las Vegas ahead of his UFC Vegas 11 match against Colby Covington.
"I'm just excited that Black Lives Matter," said Woodley, who was also notably wearing a red hat with the words "Make Racism Catch The Fade Again" on it. "I feel like a victory here just really shows how much Black Lives Matter." 
Woodley's opponent Covington is an outspoken Donald Trump supporter who has visited the White House and most recently received an endorsement from the president after Trump stopped in Vegas for a campaign rally last weekend.
"Would you shake Colby Covington's hand if he realized that Black Lives Matter?" a reporter asked.
"I like your style, and I definitely realize that Black Lives Matter," Woodley said.
Covington — who attended his own press conference on Thursday wearing a "Keep America Great" hat — took the opportunity to fire back at Woodley. 
"He's the only one that's racist," Covington said. "And the only race there is in this fight is the race to get him out of the UFC."
Covington has publicly stated that he has hated Woodley since attending one of the older fighter's UFC training camps in 2014.
"He wasn't bringing me in as a teammate or this and that," Covington told ESPN. "He was trying to tee off on me. He was trying to look good and build his confidence off of me. I wasn't going to let that happen. I'm not here to be a sparring partner. I'm here to win my own world title and to be the best fighter in the world." 
A simmering feud sparked between the two since then. In 2018, Woodley told MMA Junkie, "I've just got to whoop [Covington's] ass. I still don't have to give him the time of day. He's done a lot of barking."
Woodley and Covington will fight each other on Saturday.
[ad_2]

Source link Sports